HOME | LOGO DESIGN | PRINT DESIGN
Verve designs also specialise in designing for print. Every company needs to promote itself in the most cost-effective and stylish manner to both present a professional image to generate brand-awareness and, importantly, business.

Verve Designs Can offer the following-

Voucher Design- Click here for examples
Business Card Design (includes appointment cards, loyalty cards etc) - Click here for examples | Click here for card reverse options
Brochure Design (such as trifold leaflets, booklets etc.) - Click here for example | Click here for booklet examples
Stationery Design - Click here for examples
*NEW* Folded Leaflet Design - (A5 to A6) Click here for examples
Flyer/leaflet Design - Click here for examples
Signage Design
Poster Design Click here for examples

If they can print it....we can design it!

Please note that we do not include stock photographs as part of our service- if you'd like to include stock photos then please send them to us to incorporate into the design. We can provide advice on where to purchase, and which photos to use- if you need it!

Verve do NOT offer print services. We offer designs for print.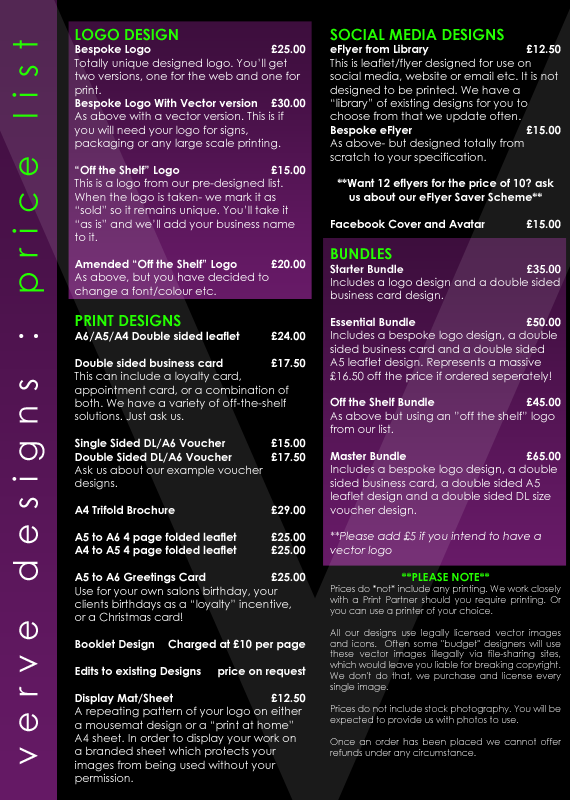 Design For Print Checklist

Designing for print can be massively different than designing for the web. If mistake is made when designing for the web you can hit "delete", however if an error is made when designing for print this can cost you both time and money.

Each printing company has different specifications to their printing process (such as different bleeds/trim/cuts etc.) So, if you're thinking of getting us to design something for print, please bear in mind the following checklist.

1. Let us know what size your document is going to be. Rather than telling us you want a "Flyer"- let us know if its A5, A6, a Rack Card etc. etc.

2. Where are you getting it printed? It's probably best to do some research into a good, trustworthy printing company. Verve often designs for people using Vistaprint (as the size templates are readily available) however, please feel free to use any company you like. Or if you're planning to print at home (which is perfectly fine!) let us know.

3. Please provide any Logos (such as CND, Fake Bake etc) and any photos or pictures that you'd like to be included. Please don't take any images directly from the web- as they're likely to be 72dpi (dots per inch) and in print we need at least 300dpi

4. Provide any text for leaflets, posters etc (not including business cards) on a Word document. We cannot accept text directly from an email.

We strongly suggest that you provide the text in as completed a state as is possible.

Your text will be inside a complete design, and therefore even a small change might entail lots of redesign work- and we may have to charge for any additional work (but don't worry- if its just a couple of price changes, for example- that should be fine)

Please don't use the design drafting stage as an opportunity to edit your text- this should be done before you send it over.

5. Spellcheck and recheck the text!

6. Leave the rest to us!

If you have any questions please email us on info@vervedesigns.co.uk or come and Like us on Facebook


* Block bookings and "bundle" deals are none refundable in any circumstance.